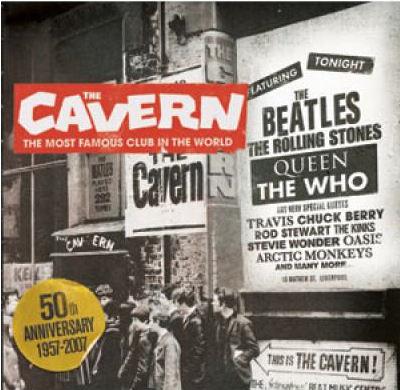 El club más famoso de todos los tiempos: "The Cavern", ubicado en Liverpool, cumple 50 años de vida y mucho Rock & Roll; y para celebrar tan importante fecha, lanzamos un CD de Edición Especial que incluirá 3 discos y un total de 49 tracks que reúne a muchas de las bandas más importantes que se han presentado ahí desde la década de los cincuentas a la fecha.
The Cavern se volvió prácticamente al momento de su inauguración, uno de los lugares favoritos de la juventud inglesa sedienta de nuevas tendencias musicales, haciendo del club uno de los puntos de reunión más importantes de melómanos y músicos durante los cincuentas y principios de los sesentas.
The Cavern – The Most Famous Club in the World incluye sencillos de las mejores bandas del mundo encabezadas por The Beatles (quienes gracias a una de sus presentaciones en The Cavern fueron descubiertos por Brian Epstein), y los grupos mas representativos de la "Ola Inglesa"; además, con la re-apertura de este mítico club en los 90, la presencia de grupos actuales permiten que el rango de compradores se encuentre entre los 14 y los 60 años y que sea de atractivo general para todos aquellos amantes de la música y su historia.
The Cavern es una colección de artistas, de los cuales, muchos ya se encuentran en el salón de la fama; es una enciclopedia de la música, algo que todos los fans del rock deben tener, y para las nuevas generaciones será algo didáctico que los adentrará al show más grande del mundo: EL ROCK.
CD 1
1. Bob Wooler Intro
2. The Beatles Please Please Me
3. Chuck Berry No Particular Place To Go
4. The Shadows Apache
5. The Spencer Davis Group Keep On Running
6. Johnny Kidd & The Pirates Shakin' All Over
7. Cilla Black Anyone Who Had A Heart
8. The Hollies I'm Alive
9. Gene Vincent Be Bop A Lula
10. Lonnie Donegan Cumberland Gap
11. The Fourmost Hello Little Girl
12. The Searchers Sweets For My Sweet
13. Manfred Mann Do Wah Diddy Diddy
14. Chris Farlowe Out Of Time
15. Wilson Pickett In The Midnight Hour
16. Ben E. King Stand By Me
17. Stevie Wonder I Was Made To Love Her
CD 2
1. Queen Killer Queen
2. Paul Mccartney All Shook Up (Live at The Cavern)
3. The Kinks You Really Got Me
4. The Big Three Some Other Guy
5. The Animals The House Of The Rising Sun
6. Hermans Hermits I'm Into Something Good
7. The Moody Blues Go Now
8. Gerry & The Pacemakers Ferry Cross The Mersey
9. The Zombies She's Not There
10. The Swinging Blue Jeans Hippy Hippy Shake
11. Cliff Bennett & The Rebel Rousers Got To Get You Into My Life
12. Billy J Kramer & The Dakotas Little Children
13. The Merseybeats I Think Of You
14. The Flowerpot Men Let's Go To San Francisco
15. Elton John Border Song
CD 3
1. The Rolling Stones It's All Over Now
2. The Who My Generation
3. Oasis Part Of The Queue
4. The Yardbirds For Your Love
5. Donovan Sunshine Superman
6. Wishbone Ash Blowin' Free
7. Georgie Fame Yeh Yeh
8. Bo Diddley Bo Diddley
9. Status Quo Down Down
10. Tom Robinson 2-4-6-8 Motorway
11. Edwin Starr War
12. Thin Lizzy Whiskey In The Jar
13. Rod Stewart Handbags And Gladrags
14. Kt Tunstall Black Horse & The Cherry Tree
15. Travis Why Does It Always Rain On Me
16. The Coral In The Morning
17. Arctic Monkeys The View From The Afternoon (Live – previously unreleased version)
18. 10 Reasons to Live Pretty Girls Rule the World