Más de 100 músicos, cineastas, actores y actrices, comediantes, escritores, arquitectos, bailarines, productores, modelos, economistas, editores, y muchos más, han firmado una carta en la que se revelan "hipócritas" en relación al cambio climático. La carta firmada por personas que han respaldado el grupo Extinction Rebellion (movimiento global que a través de manifestaciones pacíficas, invita a hablar de la urgencia de hacer algo para reducir el impacto negativo contra el ecosistema), asegura que los medios de difusión masiva están bien al llamarlos hipócritas.
Pero, ¿a qué se debe esto? Por ejemplo, a que muchas celebridades, incluidas algunas que firmaron la carta, utilizan aviones privados para viajar alrededor de mundo, o bien, son el rostro de campañas de marcas cuyos productos emiten CO2. "Queridos periodistas que nos han llamado hipócritas. Están en lo correcto", así empieza la carta que ha sido firmada por personajes internacionales de todos los ámbitos artísticos y culturales, en su mayoría.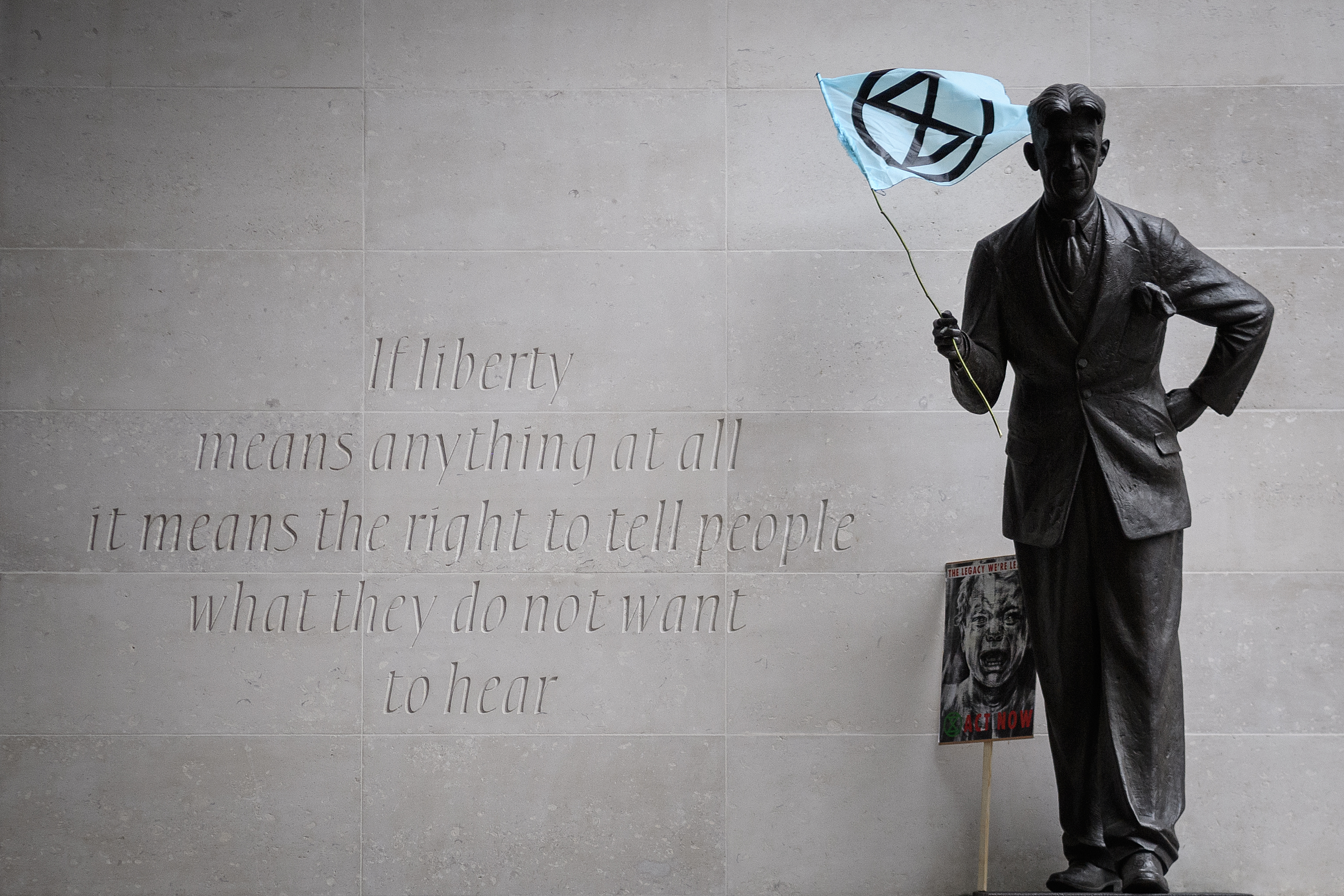 Entre los más destacados está Thom Yorke, David Byrne, Jarvis Cocker, Brian Eno, Warren Ellis, y miembros de bandas como Foals, Massive Attack, The Wombats, Beth Orton, Mystery Jets y más. En cuanto a la industria del cine y la televisión se encuentran los nombres de Alfonso Cuarón, Jude Law, Benedict Cumberbatch, Lena Headey, Vanessa Kirby, entre otros.
"Vivimos vidas con altas emisiones de carbono, y las industrias de las que formamos parte han dejado huellas muy grandes en esto. Como ustedes –y todos los demás– estamos atorados en esta economía de combustibles, y sin un sistema de cambio, nuestros estilos de vida seguirán generando un impacto dañino en el ecosistema... Los medios existen para decirle al público la verdad. Ahora, nunca ha habido más necesidad de educarnos a nosotros mismo en relación a la  CEE (Emergencia Climática y Ecológica) y usar nuestra voces para alcanzar nuevas audiencias con la verdad".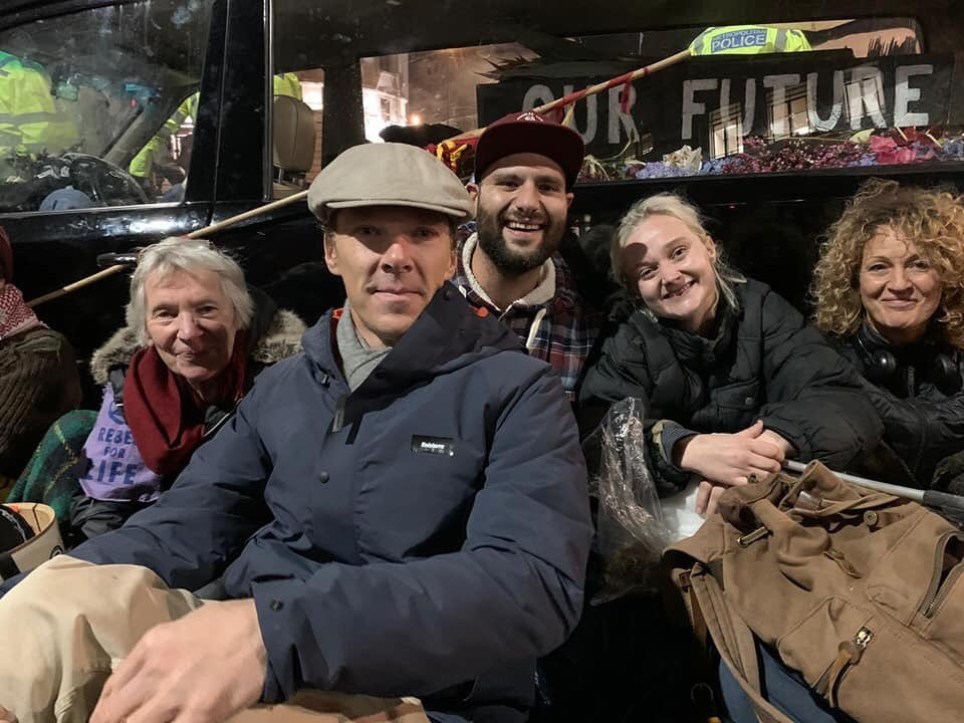 La carta también asegura que nos encontramos en la sexta extinción masiva de especies, la cual ha sido respaldada por expertos en los últimos años. Reconocen el trabajo que han hecho personas "ordinarias" para hacer un llamado de atención urgente sobre el impacto del cambio climático, el cual depara un futuro incierto para las nuevas generaciones. Inspirados en estas personas que "arriesgan su libertad", es que muchos de los que firman han decidido unirse al movimiento, pidiendo que más personas se unan a las exigencias.
Por acá les dejamos el nombre de los que, "con amor", firmaron la carta. En este enlace está la publicación de la misma:
Riz Ahmed (actor), Simon Amstell (comediante), Mel B – Spice Girls (artista), Matt Berry (actor), Melanie Blatt – All Saints (músico), Rory Bremner (comediante), Tom Burke (actor), David Byrne – Talking Heads (músico), Peter Capaldi (actor), Jake Chapman (artista), Mary Charteris (model / musician/ DJ), Grace Chatto – Clean Bandit (musician), Adam Clayton – U2 (musician), Jarvis Cocker (musician), Lily Cole (actor & model), Steve Coogan (actor), Laura Crane (pro surfer & model), Alfonso Cuarón (director), Benedict Cumberbatch (actor), Stephen Daldry (director), Poppy Delevingne (actor / model), Jeremy Deller (artist), Emily Eavis (Glastonbury Festival), Katy England (fashion stylist), Brian Eno (musician),  Paapa Essiedu (actor), Livia Firth (Eco Age – founder), Jerome Flynn (actor), Stephen Frears (director), Bella Freud (designer), Sonia Friedman OBE (producer), Neil Gaiman (writer), Bob Geldof (musician and campaigner), Aileen Getty (activist and philanthropist),  Simon Green – Bonobo (musician), Natalie Imbruglia (singer), Helena Kennedy QC, Idris Khan OBE (artist), Vanessa Kirby (actor), Nan Goldin (artist), Antony Gormley (artist), Jack and Finn Harries (film-makers and influencers), MJ Harper (dancer), Paul and Phil Hartnoll – Orbital (musicians), Lena Headly (actor), Imogen Heap (musician), Dr. Pam Hogg (fashion designer), Jon Hopkins (musician), Nick Hornby (writer), Julietthe Larthe (producer), Jude Law (actor), Howard and Guy Lawrence – Disclosure (musicians), Daisy Lowe (model), Phil Manzanera – Roxy Music (musician), Simon McBurney OBE (theatre maker), Ian McEwan (writer), Fernando Meirelles (director), Sienna Miller (actor), George Monbiot (journalist), David Morrissey (actor), Sir Michael and Lady Clare Morpurgo (writer), Sophie Muller (director), Robert Del Naja – Massive Attack (musician), Andrea (Andi) Oliver (TV chef), Chris Packham (conservationist), Amanda Palmer (musician), Cornelia Ann Parker OBE (artist), Bill Paterson (actor), Caius Pawson (Young Turks – Founder and XL Recordings – A&R Director), Grayson Perry (artist & broadcaster),  Gilles Peterson (DJ & broadcaster), Yannis Philippakis and Edwin Congreave – Foals (musicians), Jason Pierce – Spiritualized (musician), Heydon Prowse (writer and director), Jonathan Pryce (actor), Gareth Pugh (designer), Sir Mark Rylance (actor), Nitin Sawney (musician), Tracey Seaward (film producer), Wilf Scolding (actor), Alison Steadman (actor), Juliet Stevenson (actor), Justin Thornton and Thea Bregazzi (Preen by Thornton Bregazzi, designers), Geoff Travis (Rough Trade, founder), Gavin Turk (artist), Mark Wallinger (artist), Ruby Wax (writer, performer and comedian), Rowan Williams (theologian), Jaime Winstone (actor), Ray Winstone (actor), Jeanette Winterstone (writer), Thom Yorke (musician), Dan Haggis, Matthew Murphy & Tord Øverland Knudsen – The Wombats (musicians), Deborah Curtis (artist), Lady Clare Morpurgo, Geoff Jukes (music manager), Joe Murphy (playwright), David Lan (theatre writer and producer), Alice Aedy (photographer), Kate Fahy (actor), Fay Milton – Savages (musician), Johnny Flynn (actor and musician), William Rees – Mystery Jets (musician), Flora Starkey (floral artist), MJ Delaney (director), Brian Ogle (architect),James Suckling (fashion consultant), Miquita Oliver (presenter), A Fletcher Cowan (presenter), Eliza Caird (musician), Lee Sharrock (PR and curator), Joe Robertson (playwright), Olivia Calverley (TV producer), Tia Grazette (creative director), Sam Conniff (author and pirate), Stefan Bartlett (designer), Matt Lambert (artist), J. Doyne Farmer (Baillie Gifford Professor, Mathematical Institute, University of Oxford), Carolyn Benson (Benson Studios Interior Design), Georgina Goodwin (broadcaster), Jon McClure – Reverend and the Makers (musician), Ruth Daniel (cultural producer), David Graeber (anthropologist and writer), George Hencken (filmmaker), Ebe Oke (musician), Evgeny Morozov (writer), Anthony Barnett, (Co-Founder, openDemocracy), Henry Porter (novelist), Warren Ellis – Nick Cave and The Bad Seeds (musician), Jonathan Reekie (Somerset House, director), Theresa Boden (actor/writer), Nick Welsh (designer/producer), Louis Savage (A&R rep), Guy Standing (economist), Pippa Small MBE (designer), Peter Marston (designer), Richard Sennett OBE FBA, Clare Kenny (musician), Ginevra Elkann (director), John Reynolds (music producer), Laurence Bell (Domino Records, founder), Margy Fenwick (landscape gardener), Seb Rochford (musician), Nick Laird-Clowes (musician), Roman Krznaric (philosopher), Will McEwan (scientist), Beth Orton (musician), Dawn Starin (anthropologist), Charlotte Trench (actor and director), Jonathan Glazer (director), Iain Forsyth (artist), Jane Pollard (artist), Ian Rickson (director), Sam Lee (musician), ​David Lan – ​DL (producer and writer), Liz Jensen (author), Michael Pawlyn (architect), Simon Stephens (playwrite), Kobi Prempeh (curator), Steve Tompkins (architect), Annie Morris (artist), Conrad Shawcross (artist), Mira Calix (artist), Andy Holden (artist), Andrew O'Hagan (writer), David Lan – DL (producer and writer), Alison Brooks (architect), Prof Sadie Morgan (architect), Ackroyd & Harvey (Artists), Eva Wiseman (editor), Mark Wallinger (artist), Carson McCol (artist), Ivan Harbour (architect), Angharad Cooper (producer), Jem Finer (musician and artist), Rauol Martinez (writer and filmmaker), Francesca Martinez (comedien and writer), Glen Hansard (musician), Frances Stoner Saunders (writer), Geeta Dayal (writer), Amanda Levete (architect) Jack Penate (singer) and Ted Cullinan MBE RDI RA (architect).