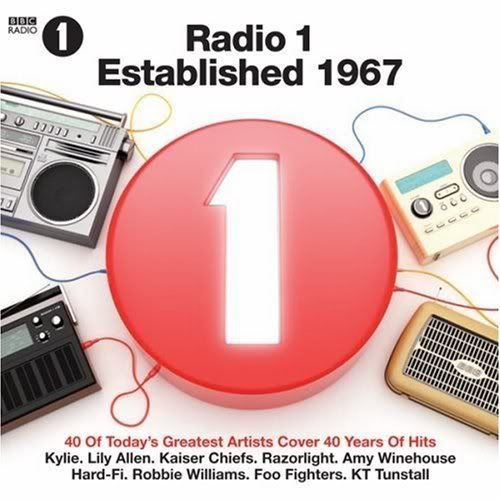 Al parecer la BBC Radio 1 no se cansa de conmemorar sus 40 años al aire, y despues de presentarnos una serie de programas especiales, conducidos por grandes leeyendas de la musica, como Sir Paul McCartney, Debbie Harry, Ozzy Osborne o Noel Gallagher, se preparan para el lanzamiento de un album conmemorativo, en el que nos presentan 40 grandes clasicos de los ultimos 40 años, pero retrabajados por nuevas bandas, como Hard-Fi, Girls Aloud, Razorlight, The Streets, Kasabian, Mika, Kylie, Foo Fighters, Amy Winehouse y Robbie Williams.
Segun tengo entendido, a cada artista se le dio a escoger un año entre 1967 y el 2007, y dependiendo del año que escogieran, tendrian que retrabajar una cancion que haya llegado al Top 20 de popularidad en el año que escogieron. Algunas se han rotado ya en la programacion habitual de la estacion de radio, pero la verdad es que para los coleccionistas, vale la pena comprarse el disco completo y que ademas es doble.
Les dejo el tracklist completo:
Disco uno
1. Flowers In The Rain – Kaiser Chiefs
2. All Along The Watchtower – Fratellis
3. Cupid – Winehouse, Amy
4. Lola – Williams, Robbie
5. Your Song – Streets
6. Betcha By Golly Wow – Sugababes
7. You're So Vain – The Feeling
8. Band On The Run – Foo Fighters
9. Love Is The Drug – Kylie
10. Let's Stick Together – K.T. Tunstall
11. Sound And Vision – Franz Ferdinand
12. Teenage Kicks – Raconteurs
13. Can't Stand Losing You – Mika & Armand Van Helden
14. Too Much Too Young – Kasabian
15. Under Pressure – Keane
16. Town Called Malice – Jam
17. Come Back And Stay – James Morrison
18. Careless Whisper – Gossip
19. Power Of Love – Pigeon Detectives
20. Don't Get Me Wrong – Lily Allen
Disco Dos:
1. You Sexy Thing – Stereophonics
2. Fast Car – Mutya Buena
3. Lullaby – The Editors
4. Englishman In New York – Razorlight
5. Crazy For You – Groove Armada
6. It Must Be Love – Paolo Nutini
7. All That She Wants – Ace Of Bass
8. You're All I Need To Get By – Mark Ronson
9. Stillness In Time – Calvin Harris
10. No Diggity – Klaxons
11. Lovefool – Just Jack
12. Ray Of Light – Natasha Bedingfield
13. Drinking In LA – The Twang
14. Great Beyond – The Fray
15. Teenage Dirtbag – Girls Aloud
16. Like I Love You – Maximo Park
17. Don't Look Back Into The Sun – The View
18. Toxic – Hard-Fi
19. Father And Son – Enemy
20. Steady As She Goes – Corinne Bailey Rae
Algunos artistas fueron entrevistados por la propia BBC sobre la manera en la que hicieron sus covers y el resultado final obtenido, dichas entrevistas, las pueden ver
aqui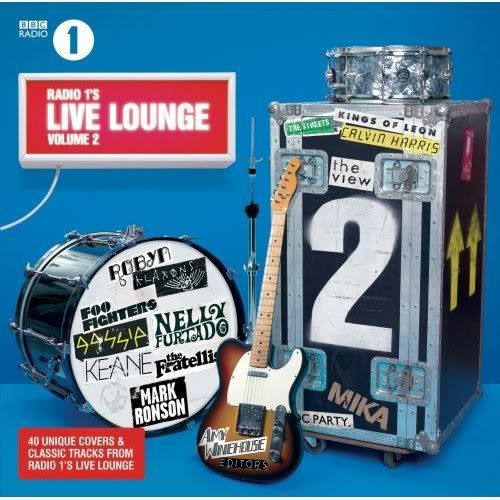 Ahora bien, si les hacen falta mas covers, Jo Whiley nos presenta el volumen 2, de las sesiones en vivo que realiza dentro de su programa, tambien en la BBC Radio 1.
Live Lounge 2, sale a la venta el proximo 22 de Octubre, y cuenta entre otras, con versiones de los Arctic Monkeys de Rehab original de Amy Winehouse, Umbrella de Rihana retrabajada por Biffy Clyro y muchas otras sorpresas mas
Disco 1
1. Foo Fighters – Times Like These
2. Amy Winehouse – Valerie
3. Biffy Clyro – Umbrella
4. Nelly Furtado – Maneater
5. The Fratellis – Chelsea Dagger
6. KT Tunstall – The Prayer
7. Mark Ronson – Stop Me
8. Klaxons – Golden Skans
9. Bloc Party – Say It Right
10. Kings Of Leon – Fans
11. Editors – An End Has A Start
12. Reverend & The Makers – Heavyweight Champion Of The World
13. Jose Gonzalez – Heartbeats
14. Calvin Harris – Girls
15. The Holloways – Generator
16. Pigeon Detectives – Girlfriend
17. Avril Lavigne – The Scientist
18. Gossip – Standing In The Way Of Control
19. Paolo Nutini – Rehab
20. Robyn – With Every Heartbeat
Disco 2:
1. Arctic Monkeys – You Know I'm No Good
2. Mika – Grace Kelly
3. James Morrison – You Give Me Something
4. 30 Seconds To Mars – Stronger
5. Keane – Dirrtylicious
6. Corinne Bailey Rae – Sexyback
7. Jack Penate – Minute, Second Or Hour
8. The Fray – Hips Don't Lie
9. Maroon 5 – Makes Me Wonder
10. The View – Same Jeans
11. The Enemy – Hung Up
12. Kasabian – Empire
13. The Zutons – Valerie
14. Damien Rice – Cannonball
15. Maximo Park – 500 Miles
16. Dizzee Rascal – Fix Up, Look Sharp
17. The Streets – Never Went To Church
18. Elbow – Forget Myself
19. Natasha Bedingfield – Chasing Cars
20. Coldplay – Yellow
Los discos se pueden comprar y preordenar desde Amazon y otras tiendas en linea, y pa que na mas se den un quemon, les dejo la el cover de Rehab de los Arctic Monkeys
pa que lo puedan descargar