The Flaming Lips es una banda que cada que la ves te impresiona. Son sus visuales, las canciones, y una discografía que va más allá de 30 años lo que los hace una de las mejores bandas contemporáneas. A partir de esto es que decidieron liberar todas aquellas canciones que jamás pertenecieron a un disco y, ¿por qué no?, remasterizar unos cuantos álbumes, especialmente los primeros.
El 20 de abril la banda lanzará Scratching The Door: The First Recordings of The Flaming Lips, el cual es una compilación de 19 tracks interpretados por el line up original de la banda, en el cual aparece el hermano de Wayne Coyne, Mark, como vocalista.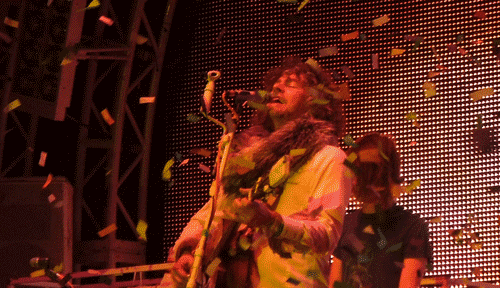 Esta es la primera vez que estas canciones -tomadas de los primeros dos demos en formato casete y el primer EP que lanzaron- han sido coleccionadas y publicadas en formato de singles. También hay unos cuantos covers, entre los cuales se incluye "Anyway, Anyhow, Anywhere" de The Who y "Communication Breakdown" de Led Zeppelin. Cada canción ha sido remasterizada por el productor David Fridmann, así como por Coyne y Michael Ivins.
Por si esto fuera poco, también está Seeing the Unseeable: The Complete Studio Recordings of The Flaming Lips: 1986-1990, un box set de seis CD que saldrá el 25 de mayo y tiene los primeros cuatro álbumes de estudio de la banda con Restless Records, así como dos discos de rarezas, en las que aparecen b-sides junto con canciones que han sido coleccionadas en compilaciones, demos, y discos.
Los cuatro álbumes –Heart It Is (1986), Oh My Gawd!!!… The Flaming Lips (1987), Telepathic Surgery (1989) y In a Priest Driven Ambulance (With Silver Sunshine Stares) (1990)- han sido remasterizados a partir de cintas análogas de 1/4 pulgadas. Además, en un comunicado de prensa The Flaming Lips promete "unos cuantos lanzamientos de vinilos, incluyendo la versión remasterizada de los LP que grabaron con Restless Records.
Acá te dejamos el tracklist de todos los relanzamientos oficiales.
Scratching the Door: The First Recordings of the Flaming Lips:
01. Bag Full Of Thoughts
02. Out For A Walk
03. Garden Of Eyes
04. Forever Is A Long Time
05. Scratchin' The Door
06. My Own Planet
07. Killer On The Radio
08. Anyway, Anyhow, Anywhere
09. Batman Theme
10. Handsome Johnny
11. Flaming Lips Theme Song 1983
12. The Future Is Gone
13. Underground Pharmacist
14. Real Fast Words
15. Groove Room
16. Jesus Shootin' Heroin
17. Trains, Brains & Rain
18. Communication Breakdown
19. Summertime Blues
Seeing the Unseeable: The Complete Studio Recordings of The Flaming Lips: 1986-1990:
Disco uno: Hear It Is
01. With You
02. Unplugged
03. Trains, Brains and Rain
04. Jesus Shootin' Heroin
05. Just Like Before
06. She Is Death
07. Charlie Manson Blues
08. Man From Pakistan
09. Godzilla Flick
10. Staring At Sound/With You (Reprise)
Disco dos: Oh My Gawd!!!…The Flaming Lips
01. Everything's Explodin'
02. One Million Billionth Of A Millisecond On A Sunday Morning
03. Maximum Dream For Evil Knievel
04. Can't Exist
05. Ode to C.C. (Part I)
06. The Ceiling Is Bendin'
07. Prescription: Love
08. Thanks To You
09. Can't Stop The Spring
10. Ode To C.C. (Part II)
11. Love Yer Brain
Disco tres: Telepathic Surgery
01. Drug Machine In Heaven
02. Right Now
03. Michael, Time To Wake Up
04. Chrome Plated Suicide
05. Hari-Krishna Stomp Wagon (Fuck Led Zeppelin)
06. Miracle On 42nd Street
07. Fryin' Up
08. Hell's Angel's Cracker Factory
09. U.F.O. Story
10. Redneck School Of Technology
11. Shaved Gorilla
12. The Spontaneous Combustion Of John
13. The Last Drop Of Morning Dew
14. Begs and Achin'
Disco cuatro: In A Priest Driven Ambulance (With Silver Sunshine Stares)
01. Shine On Sweet Jesus – Jesus Song No. 5
02. Unconsciously Screamin'
03. Rainin' Babies
04. Take Meta Mars
05. Five Stop Mother Superior Rain
06. Stand In Line
07. God Walks Among Us Now – Jesus Song No. 6
08. There You Are – Jesus Song No. 7
09. Mountain Side
10. What A Wonderful World
Disco cinco: Restless Rarities
01. Death Valley '69
02. Thank You
03. Can't Stop The Spring – Remix
04. After The Gold Rush
05. Death Trippin' At Sunrise
06. Drug Machine In Heaven – Sub Pop 7-inch version
07. Strychnine/Peace, Love And Understanding
08. Lucifer Rising
09. Ma, I Didn't Notice
10. Let Me Be It
11. She's Gone Mad Again
12. Golden Hearse
13. Stand In Line
14. I Want To Kill My Brother; The Cymbal Head
15. Five Stop Mother Superior Rain
Disco seis: The Mushroom Tapes
01. Take Meta Mars
02. Mountain Side
03. There You Are
04. Five Stop Mother Superior Rain
05. Rainin' Babies
06. Unconsciously Screamin'
07. Stand In Line
08. God's A Wheeler Dealer
09. Agonizing
10. One Shot
11. Cold Day
12. Jam